PLEASE JOIN US IN PRAYER FOR ALDO AND HIS FAMILY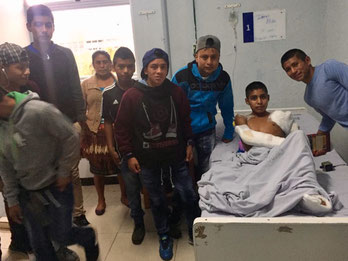 One of our newest Rhinos, Aldo Mendez was recently in a tragic accident.  While out working, he came in contact with a high voltage power cable.  Instantly he was electrocuted and the bolt of electricity shot diagonally through his body, exploding through his left arm and right leg.  
Emergency responders did not expect him to live.  His leg and arm were amputated in an effort to save his life, and he was in a coma for several days.  Thankfully he has slowly been recovering, but the road ahead is going to be difficult one.
We consider Aldo a miracle, and we are trusting that God has a perfect beautiful plan for his life!  His mom recently told me that she has been thanking God that Aldo joined the Rhinos before this accident happened.  When I asked why, she said "because now he has a bunch of friends in his life to help him through this."  What a privilege and honor it is to be part of that...