Daily Operations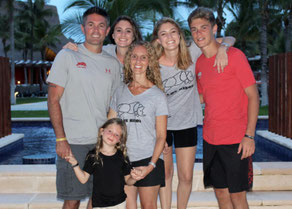 The Johnson Family:  The Johnson's followed God's call to Guatemala in August of 2008.  As they worked and lived among the people of Magdalena and Buena Vista, the depth of certain issues in the villages came to light. Since then, they began praying for God to begin a ministry to the boys, allowing us to address these deep issues before they became men. Read more.  Eventually, God began to shape a vision that would soon become the Buena Vista Sports Academy for Boys.  Brock has always worked in the business side of professional sports, which admittedly almost ruined him. He feels blessed to now be coaching and teaching boys who are far from the hoopla and self-absorption of professional sports. The entire family serves together through various roles at BVSA. Brock oversees the operation of the ministry, as well as coaches.  Kerrie helps Walda run the education program, and takes very seriously the role of "team mom."  Madi and Brooke help in the education center, and Jake is a member of the JV Rhinos.  Luciana Andrea is the newest addition to the family, and has made life just a little bit more of an adventure!  You can follow the Johnson's on their ministry website deepStreamguatemala.com and on Brock's blog.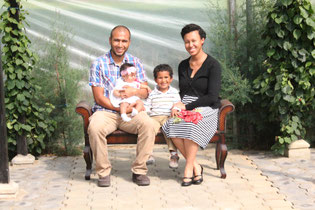 The Leiva Family:  Mynor was the first Guatemalan the Johnson's met when they came to Guatemala in April of 2008.  After a couple years of friendship, God would eventually lead he and his wife Walda to leave their careers and become full-time missionaries to their own people.  To have a local couple who represents the traits we seek to teach the boys is an invaluable asset. Especially for the boys, Mynor's example as a dedicated man of God, a strong leader with a servant's heart, and a loving husband, is exactly what they need to see on a daily basis.  And as God would have it, Mynor is also an athlete.  He and Walda bring a perfect combination to the ministry, as Walda holds multiple degrees, is a computer software engineer, and also a teacher.  She too left a promising career to pour her heart into helping these boys, the future leaders of a small poor village in Guatemala. Since joining the Academy, they have had a son (future Rhino!) named Noah, and a new baby girl, Ava Luna, born May 9, 2015.  On a daily basis, Mynor is the head coach of the soccer program, and Walda oversees the education program.  You can support the Leiva's by clicking HERE and noting "Leiva Family" in the form.  You can also read more about their story, and watch their regular video updates on their website.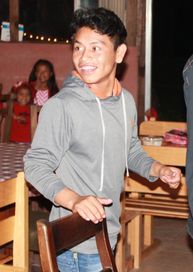 Allan Marroquin:  Allan graduated from the 2015 BVSA class.  In that year he was both our varsity MVP as well as leading scorer.  But because of his maturation as a young man, and commitment to integrity, we knew we wanted to bring him onto our leadership team.
Allan has a promising career as a soccer coach, and as a leader of young men.  He now works part-time every afternoon helping coach the JV Rhinos and assisting in various areas.  He is also the leading force behind BVSA's new girls team, "Las Rinas", serving as their head coach.
We couldn't be prouder to have Allen on our team, and we hope to see him continue leading young Rhinos for many years to come!
Josue Lobos: Josue (better known as "Abuelo") is our facilities manager at BVSA.  He is a former Rhino, participating in our inaugural year and completing 4 years in the academy. In his final year, he was voted Most Valuable Player.
At BVSA, Josue is in charge of facilities and grounds, which includes keeping the gym, classrooms, weight room, team-house, and entire property in great shape.  He is an invaluable asset to us, and most importantly he is trusted like family!
Josue is 20 years old and has a girlfriend of several years named Mildred.  His brother Geovany ("Pato") is currently a Rhino.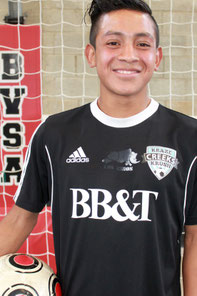 Dennilson Lopez:  Dennilson helps Josue manage the facilities at BVSA.  Currently in his final year of the academy, Dennilson has maintained a level of integrity throughout his career as a Rhino, and we knew we wanted to keep him on staff.  His humble spirit is something special about him that everyone notices. 
Currently, Nicho assists Josue in keeping the facilities at BVSA up and running.  He does everything from cleaning to general repairs.  He is also studying to obtain his mechanic certificate.
Nicho has had a very difficult life; we've been through many ups and downs with him and his family over the last 6 years.  He has come out of it all with a strong faith in the Lord, and we are excited to see how God continues to grow and shape him.
The Davis Family (Honduras):  The Davis Family joined the BVSA team in November of 2012. Paul, Jessica, Mikayla, Maddie Shae, McKenna, and Lulu are committed to the long-term vision of BVSA.
Paul and Jessica have 4 beautiful girls, who with their blonde hair and blue eyes are pretty easy to spot wherever they go!  For more than 2 years their family served on a daily basis at the Boy's Academy in Guatemala, and they also led dSg mission teams.
The Davis family, along with Axel Mendez now live in Honduras and are in the process of planting the Buena Vista Sports Academy of Travesia, Honduras.  You can read more about that here, as well as follow the Davis family on their blog.
Axel Mendez (Honduras):  Axel was a member of the first ever graduating class of Rhinos.  He won the "Key Player" award that year, meaning he was the most valuable player on the team.  While Axel didn't lead the team in scoring, he was by far the most important player on the field.  He brought stability, and with Axel on the field, the team was always confident it could win.
More important than his soccer skills, Axel demonstrated a level of integrity that we found extremely unique.  So much so that we decided to hire him as an assistant facilities manager and He has worked as an assistant coach.
Axel now lives in Honduras with the Davis family (above) and is in the process of planting the Buena Vista Sports Academy of Travesia, Honduras.  Axel will play a critical in the new Academy as we seek to help raise up a new generation of leaders in the village of Travesia!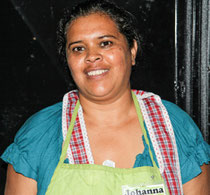 Johanna:  Johana has been with us as our cook for teams ever since we started back in 2008.  She joined our team at BVSA in 2012 and has been working full time for us ever since.   Johana and her husband Byron have been good friends to us for many years.  They have 5 children.
Johanna does a great job for us.  She loves the boys and is thankful for her job.  In addition to running our feeding center ("the training table"), she still cooks for visiting mission teams when they are in town.
Board of Directors:
Chris Steed:  Chris, Holly, and their boys serve with us in Guatemala and hold a leadership role with the 12x12 Love Project. You can read more about the Steed Family on their website.  Chris is on the Board of Directors for the BVSA non-profit in Guatemala.
Mark Schmidt:  Already overseeing an Education Program in Buena Vista, the Schmidts have a huge heart for the people of this village.  They have existing relationships with many of the BV boys and their families, and their son Elias is a member of the JV Rhinos.  Read more about the Schmidt Family on their website.  Mark also serves on the Board of Directors for the BVSA non-profit in Guatemala.
Oscar Gonzalez:  Oscar is on the Board of Directors for the Guatemalan non-profit of the Buena Vista Sports Academy for Boys.  He, his wife Francien, and their 3 daughters, have been close friends with the Johnson's ever since they arrived in Guatemala in mid 2008.  They are loved and trusted friends.
Carlos Lopez:  Carlos is on the Board of Directors for the Guatemalan non-profit of the Buena Vista Sports Academy.  He and his wife Telma are dear friends, and locals to the community of Magdalena (just outside of Buena Vista).  There are leaders in the ministry of Love Guatemala, where among other things, they run an art school and cooking school.
Brodie Waters:  Brodie serves on the Board of Directors for the state-side BVSA non-profit.  He has visited and seen our work here firsthand, and is extremely supportive of the ministries.  He and his wife Cindy have been close friends for many years.  They live in Jacksonville, FL with their 3 kids, Cami, Kellen, and Kyle.
Paul Moreau: Paul and his wife Kedra have been a part of the boy's academy since it's inception.  Not only have the supported its efforts in many ways, but they frequently visit and maintain close relationships with the boys.  Paul is on the BOD of the state-side non-profit.  Paul & Kedra live in Lake City, FL with their 2 daughters Britney and Valerie.